Snippets Exchange Help Topics
Downloading | Installing | Managing | Submitting | Updating
Downloading Snippets from the Snippets Exchange
All Snippets from the Snippets Exchange are packaged in the familiar MXP format. Snippets from the Snippets Exchange are installed via the Extension Manager just like you would install any other extension. Downloaded snippets are install 3 files for compatibility with the Snippets Panel by Massimo Foti and Dreamweaver MX.
Before Downloading and Installing any extension from this site, we suggest that you be aware of our policies. Our full Disclaimer & Notice and Legal Notice links can be found at the bottom of every page. DreamweaverFAQ.com assumes no responsibility for any loss that may result in the use of any advice, tutorial, extension, code, Snippet, or other information gathered from this site. Use this site and the contents at your own risk.
If you are a registered user of the Snippets Exchange, your downloads will be kept track of for your convenience. For example, if you download Snippets while you are at another machine and forget which ones they were, you will be able to login in and view the My Snippets page.
| Icon | Meaning | Action When Clicked |
| --- | --- | --- |
| | Download MXP | Download the Snippet MXP |
| | Add Snippet | Add Snippet to Download Package |
| or | Toggle Check Boxes | Checks/UnChecks All Boxes |
| | Snippet Pending | Go to Pending Downloads Page |
Download Now
You can download Snippets individually by clicking the Download MXP icon.
Download Later
Clicking the Add Snippet icon will mark the Snippet as Pending (indicated by the Snippet Pending icon).
Toggle Check Boxes then click the Add Snippets to Download Package button at the bottom of the page. Pending Snippets will all be gathered and placed into a single Zip file. This will allow you to download as many Snippets as you wish in one visit.
Download the Snippets Exchange Extension to a folder you create named Snippets Exchange. We recommend that you put that folder in Dreamweaver/Downloaded Extensions/ as shown below.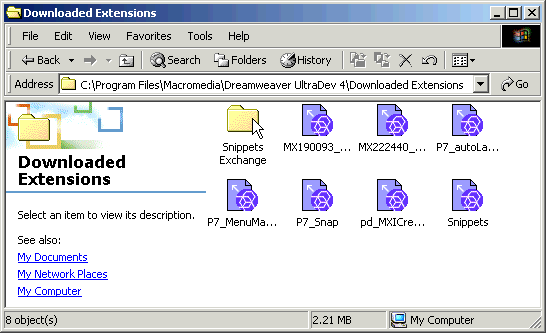 Downloading to this same directory every time will ensure you have backups locally if you ever need them.
Downloaded Snippets are named with a preceding SMX to denote that it is a Snippet downloaded from the Snippets Exchange. Fore example, SMX0044-1_0.mxp. Following the SMX is a 4 digit identification number, followed by a dash and then the version number. 1_0 means version 1.0; the dots are replaced by underscores.